Made for FlowStone
The FlowBoard DAQ is a low cost Data Acquisition (DAQ) system developed by DSPRobotics specifically for the use with the FlowStone programming language.
Using the pre-made FlowBoard component inside the FlowStone programming environment you can read inputs, set outputs and have complete control over the FlowBoard hardware.
You can make your own stand alone EXE files using the FlowStone graphical programming language that can now talk to the outside world via the FlowBoard DAQ.
Applications include Machine Control, Home Automation, Test and Measurement, Education, Visualization, Data Logging, Test Automation, Monitoring, Rapid Prototyping and many more.
Capabilities
FlowBoard uses a modular system of satellite boards which allows you to configure the hardware exactly to your needs. Interchangeable Input and Output terminal boards provide the base interface with added functionality being provided by optional extension boards.
Analog Inputs
The 8 Analog inputs on the FlowBoard use a 10 bit ADC that can measure analog voltages from such things as temperature sensors, potentiometers, humidity sensors etc.
Digital Inputs
The 16 digital inputs are internally pulled up (100K) allowing simple contacts, micro switches or logic levels to be connected directly without any additional electronic components.
Digital Outputs
The 16 Digital outputs are buffered to provide up to 50mA output drive on each output. Meaning the outputs can be directly connected to such things as LEDs, Relays (Solid State or Coil), or any other types of FETs or Transistors.
Expansion
The capabiliteies of FlowBoard can be extended further by adding bolt-on extension board modules - read on to find out more.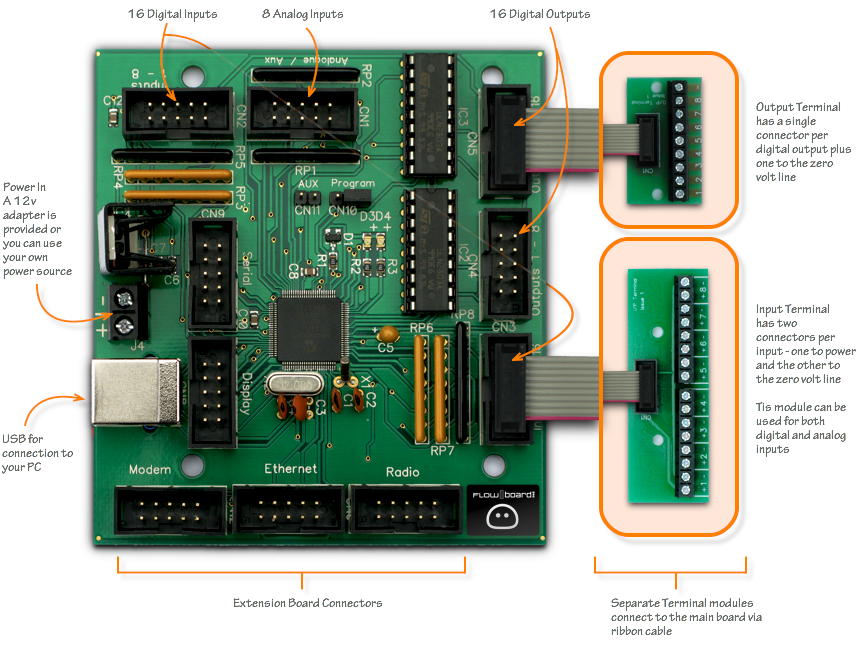 FlowBoard DAQ Pack
The base FlowBoard package contains everything you need to get started using FlowBoard with FlowStone. As well as the main board you'll get 2 digital input boards, 2 digital input boards and a single analog in put board. Add to that all the connector ribbons you need, a 12v power adapter and a USB cable for connecting to your PC.
STOCK IS CURRENTLY LOW SO PLEASE ALLOW AN EXTRA 2-3 DAYS FOR DESPATCH
Please select the appropriate shipping option before adding items to your cart: