Freq Fork - LA Freq

Posted:
Sun Jun 09, 2019 10:55 pm
So, I was going to get ahold of Nix. And, as people know I've been attempting to make a good EQ for a while.
And meanwhile, Nix has always had one that works well. It's really humbling that some people can have so much skill because I tried My own methods which admittedly, fell short.
So I went with His most recent freq, and am Making a fork. It's a very modern no text parametric EQ. It'll have a popup menu (three lines to signify it) which has a few features. Also, there will be right click to change filter type.
So far so good, will be posted later tonight. It's choice for sure. Anyone Who's a fan of the parametric EQ by FL Studio will like this one because it is rather similar. It uses only 0.8% CPU for all bands. I was hoping that Nix might be down with Me adding his Phonics or Nix logo. I'd love a co-release because, though I added a lot of My own stuff, it's based on His hard work.
See You tonight. BTW, I call these bells the orbs of smoothness. All You need do is grab the orbs and move them around and it's pure magic!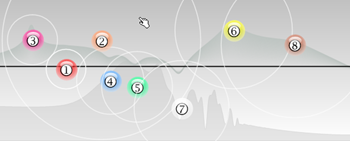 tata.